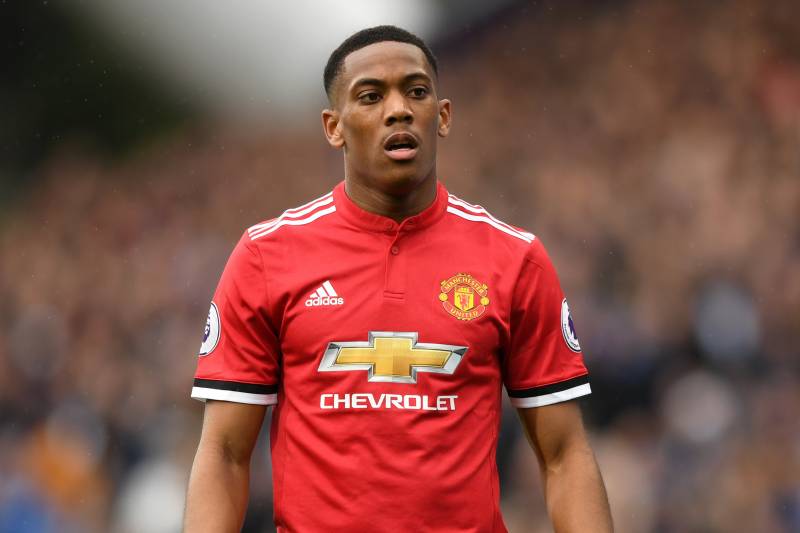 Gareth Copley/Getty Images
Living up to his price tag was always going to be a major challenge for Anthony Martial, and as he nears the end of his third season at Manchester United, a question mark remains over whether he is going to fulfil his potential at Old Trafford.
The fee when he joined from AS Monaco in 2015 was an initial £36 million rising to £54 million. In the current market, that does not seem a big deal, but at the time it was a significant outlay most pundits considered a huge risk. Remember, most fans in England had not even heard of him.
It would be unfair to label him a flop—his talent is obvious, and his 131 appearances for the Red Devils have produced 36 goals and 27 assists. His problem is that he is now 22 and has still not managed to nail down a place in the team.
He's battling for a place in the France squad on top of trying to show United manager Jose Mourinho he deserves to be in his starting XI on a weekly basis.
Per Il BiancoNero (h/t The Independent), his agent this week refused to guarantee he would not leave Old Trafford in the summer, and it is fair to say the brilliant young forward might seriously now weigh up the idea of a transfer.
The Trouble with Mourinho
1 OF 4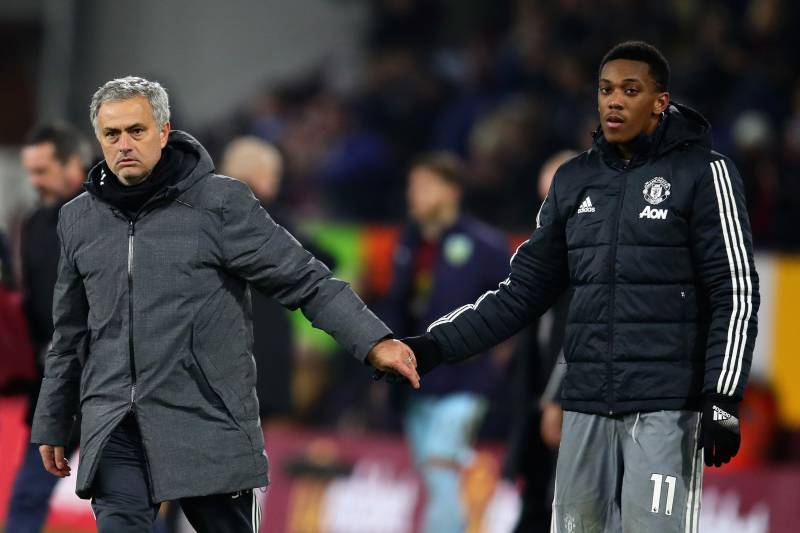 Chris Brunskill Ltd/Getty Images
Martial's first season under Mourinho was difficult. He started 27 of the club's 63 matches in a campaign during which he did not suffer any significant injuries.
There were murmurs at the end of that 2016/17 season that the France international was considering his future, and one French source confirmed to me the player had spoken to his representatives about whether he should stick around.
But he has drive and determination and wanted to prove he was not a waste of money. Martial focused on getting in the United side and winning over his boss.
Mourinho has been battered from pillar to post at times for his style of football and a lack of attacking intent. It certainly has not been for a lack of exciting talent in his ranks, and Martial began to prove his worth.
By Christmas, he was a regular starter, and the United fans were loving his style of play. But there were still concerns about how he could remain part of the set-up with Marcus Rashford, Romelu Lukaku, Jesse Lingard and Juan Mata also competing for forward slots. The competition intensified when Alexis Sanchez was signed in January.
John Ashton of popular club fanzine and podcast United We Stand said: "It's clear that the manager views him primarily as a left-sided forward, the same as Rashford. Until January those two generally rotated the position between themselves and did well. Lots of fans clamoured for them both to start together, but whenever they have it hasn't really worked.
"Martial then had the added problem of Alexis Sanchez signing in January—another player who prefers to play as a left-sided forward. It hasn't really worked out for Sanchez yet, but Mourinho seems to favour his work rate ahead of Martial's often languid style. He's still had games, but there's so much competition for places that when he has a bad game, he's out of the team again.
"He needs a run of games, but hasn't played well enough to warrant them. He's probably second or third choice as both a striker and a left-sided forward, unfortunately."
3-Year Itch
2 OF 4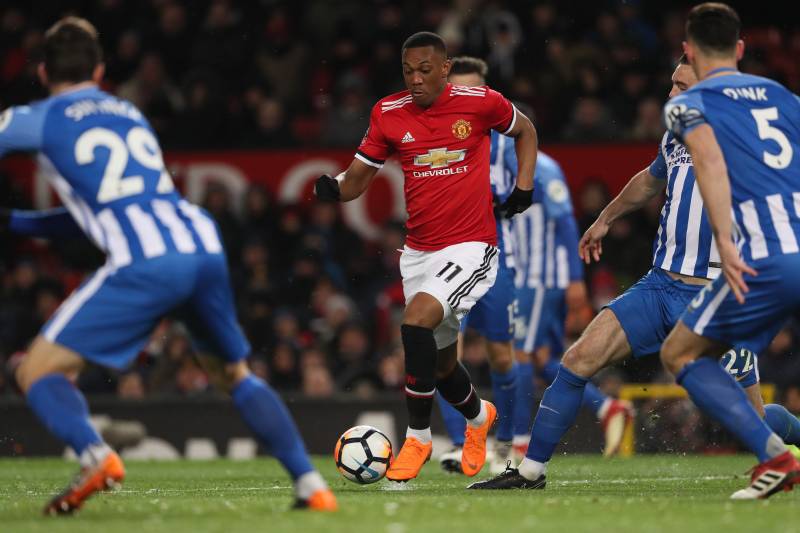 Matthew Ashton – AMA/Getty Images
Forget the seven-year itch; in the life of a millennial relationship, a three-year itch is now more prominent, and right now Martial is probably experiencing the football version of such frustration.
How much longer can he afford to commit to life in Manchester?
Since Sanchez arrived, he has been shuffled across every place in the front line yet does not quite seem to fit in. Mourinho is obviously going to find space for Lukaku, the focal point of his team, and Sanchez, his highest earner, before worrying about who else gets a start.
It is this dilemma that will be on Martial's mind during the international break alongside the likes of Kylian Mbappe, Antoine Griezmann and Ousmane Dembele: What does his future hold at United?
Sources at United told me he continues to have a good demeanour around the training ground even during his tough spells, and at board level he is considered to be one of their best players.
It was Il BiancoNero who exclusively reported the news from Martial's agent Philippe Lamboley that the player could not commit to a long-term future.
"Will [Martial] stay in Manchester in the summer? At the moment, I cannot say anything else about it," he said.
Il BiancoNero writer Mirko Di Natale gave B/R his interpretation of what will happen next.
"In my opinion, Martial can leave Manchester United in the summer, even if his contract expires in 2019," he said. "He is a young player who has great qualities and is followed by different European teams, like Inter Milan, who already tried in recent windows of the transfer market."
Offers from Serie A
3 OF 4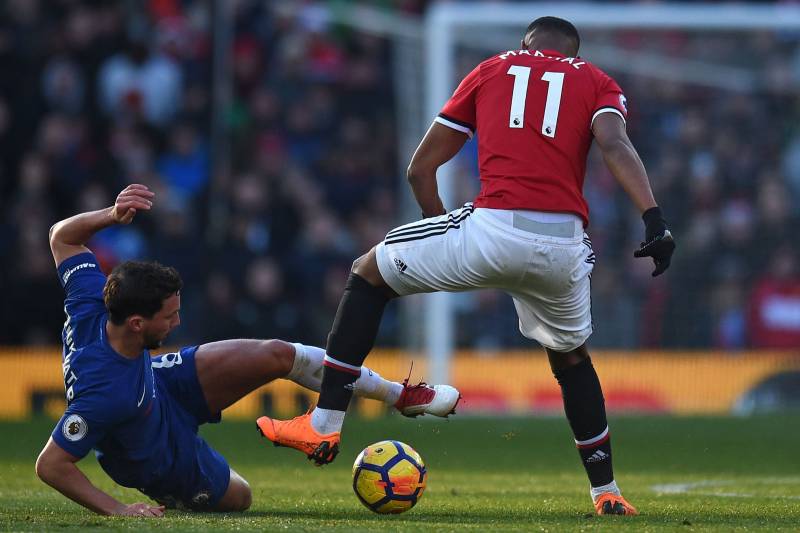 OLI SCARFF/Getty Images
The Inter Milan link has been alive for some time and looked most possible last summer when United were pursuing the signing of Ivan Perisic from the Italian club.
Paul Hirst of The Times reported Mourinho wanted Perisic to replace Martial because of doubts over the French player's mental toughness, but since then Martial has seemed to at least show resilience and desire to remain part of the club.
United are no longer interested in Perisic, but sources in Italy believe Inter could still be keen to sign the Red Devils forward in the summer if they get the feeling he is available.
Juventus have also been linked with Martial, but Di Natale, who specialises in Juve news, thinks it is unlikely.
"His agent denied a meeting with Juventus just a few days ago," he said. "Realistically, he is a player very much appreciated by Juventus but probably, in the summer, the Bianconeri will be on other objectives and not on Martial. The priority of the Italian club will be a good right-back and a great midfielder."
In the Premier League, Tottenham Hotspur and Arsenal could open up as potential new homes for Martial.
The Gunners have had a long-term interest, and manager Arsene Wenger is a huge admirer, yet their recent acquisitions in attack make such a move seem unlikely.
Spurs could make room for him in their attack, though, and he would make a tasty addition when they move to their new stadium.
What Happens Next?
4 OF 4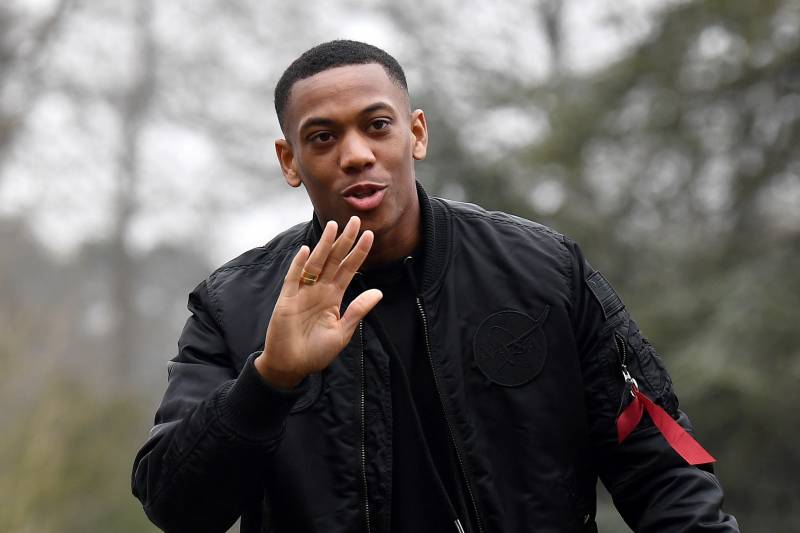 FRANCK FIFE/Getty Images
The general concensus around Old Trafford is that Mourinho remains happy to have Martial in his squad and does not have a desire to sell, but one contact in Manchester suggested a scenario in which he may be tempted to cash in.
The United insider told me: "Don't forget that Jose would love to have Gareth Bale at United, and it sounds like he might become available soon. If selling Martial made space for Bale to arrive, that might suit the boss."
Mourinho has spoken of his admiration for Bale in the past, and there is no doubt he likes to make statement signings as a manager.
But to let Martial slip out of the exit door would not be his decision alone. The board invested big money in the Frenchman because they considered him a major prospect in world football, and United fans would be sad to see him go, too.
Ashton said: "My big concern is that Mourinho has previous for not getting the best out of young players who have then come back to haunt him, namely the likes of Kevin De Bruyne, Romelu Lukaku and Mohamed Salah when he was at Chelsea. I get the feeling Martial could easily do the same if he left.
"I think it would be a crying shame if Martial left. He's still young and ridiculously talented and could be as good as he wanted to be. That's the issue, though, does he apply himself like he could do? Performing once every five games isn't enough at a club like Manchester United. He hasn't really pushed on in the last couple of seasons like we had hoped."
At this stage, sources close to the player insist Martial has not decided what to do next. Ideally, he would stay at United and become a big part of their history, but he is also believed to be concerned that no progress has been made this year over extending or renegotiating his contract. He is waiting to see how the final months of the season play out both on and off the pitch.
Martial needs to see that Sanchez has not nudged him down the pecking order, and he has to hope his United predicament does not cost him a place in France's World Cup squad.
Clubs will come knocking on United's door if either of those scenarios comes true, and Martial would then face the biggest decision of all: whether to walk away from one of Europe's biggest clubs.