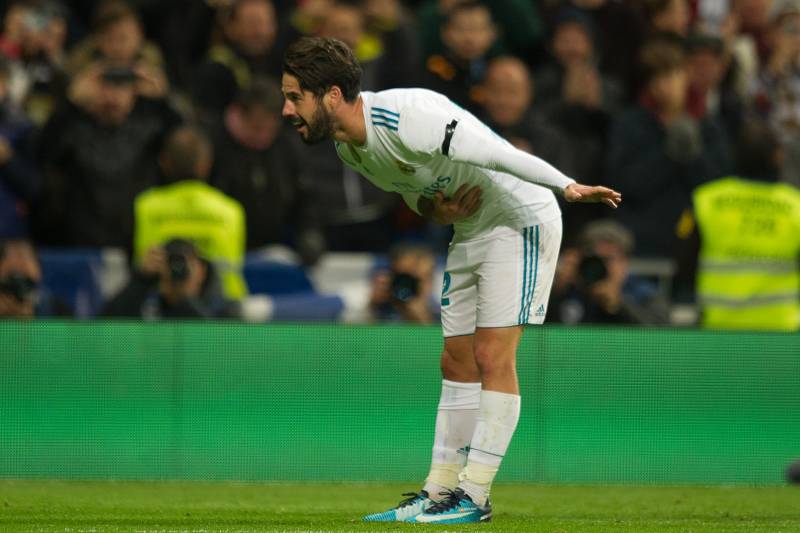 Denis Doyle/Getty Images
It took around 24 hours for Isco to transition from Spanish hat-trick hero to Real Madrid outcast.
Just as headlines had been written lauding him for a sensational display in the 6-1 friendly victory over Argentina, an age-old question popped up: Does he have a future at the Santiago Bernabeu?
The same issue was raised in February of last year and in March 2016, but this time it was Spanish journalist Jorge Calabres who caused a stir. He suggested on El Chiringuito TV that Manchester City were willing to pay him double his Madrid salary to make a move to the Premier League.
It was followed up by denials from the English club, yet somehow you wonder if this storyline could still come to life.
Isco is one of Europe's most talented, exciting, creative players—what does he have to do to show Zinedine Zidane he deserves to be a permanent fixture in the Madrid XI?
Wanted by Guardiola
1 OF 4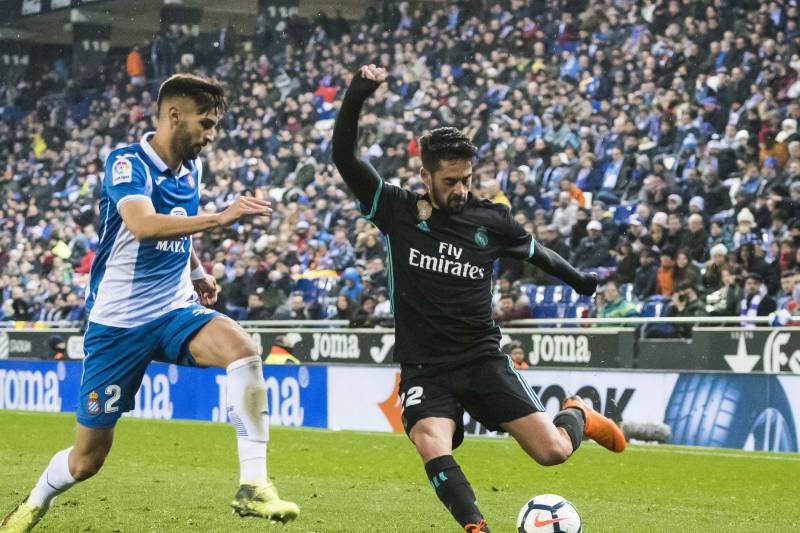 Power Sport Images/Getty Images
Media outlets across England picked up the claim from Spain over Manchester City's pursuit of the player, and journalist Calabres is convinced of the roots of his story.
He told B/R: "Guardiola already tried to sign Isco last season, but he finally ended up renewing with Real Madrid. This year there has also been contact and Guardiola assured him of the starting position he does not have with Zidane. Also, a large salary increase."
Calabres believes the next month will be key to giving Isco a clear vision of where he stands at the club.
"If he is still a substitute in important matches, he could consider an exit after the World Cup," he added.
City sources privately admit that Isco is on their radar and that if he does become available they will be ready to make him an offer.
However, the player signed a new contract last summer that is going to make a transfer difficult to negotiate—it is believed to include a €700 million release clause.
There was relief for Isco in midweek, as he was handed a starting berth for the Champions League quarter-final match against Juventus, which eases the strain on his situation for the time being.
Yet still there is the question as to why 25-year-old Isco is running the show for Spain but struggling to feel comfortable at his club.
Spanish Starter
2 OF 4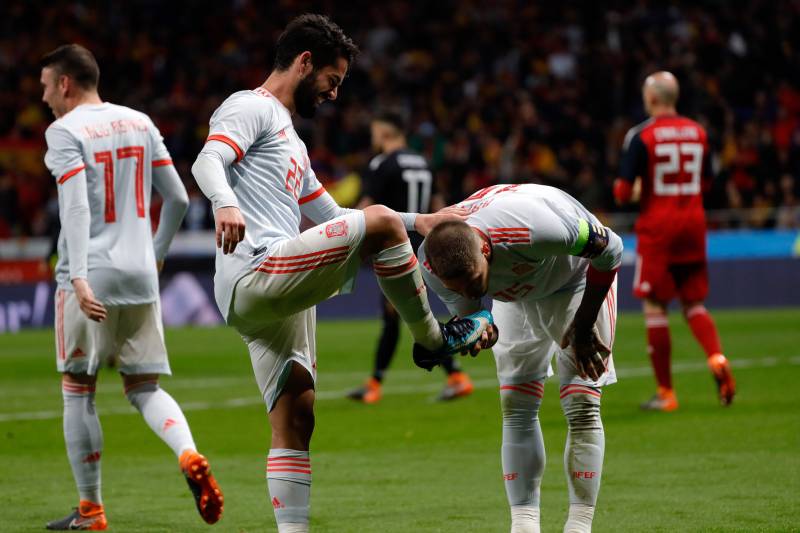 TF-Images/Getty Images
Rotation is part and parcel of being a Madrid forward (unless your name is Cristiano Ronaldo), yet it was strange to hear Isco speak of such doubt in terms of how he is viewed in day-to-day football, in the wake of his three Spain goals.
"In Madrid, I don't have the confidence a player needs," he said in a post-match interview with Marca. "The matches with the national team give me life. Here, I have the confidence of the coach.
"I want to show that I'm a good player. [Julen] Lopetegui (the Spain coach) shows me confidence with the minutes he gives me. Maybe I'm the problem in Madrid. I don't know how to win Zidane's confidence."
Chris Winterburn, writer for Marca in English, believes there is a fundamental reason for the difference in mindset.
"It's simply a case of the differences between the two coaches, Zidane and Julen Lopetegui," he said. "At national team level, Isco has been a pivotal part of Lopetegui's team since he took the job. Unfortunately there are more matches with Real Madrid and as they faltered early on in the season, Isco was more often than not involved.
"There are suggestions that Zidane has never truly been comfortable with Isco's role on the pitch, it took him a long time to give either the Spaniard or James Rodriguez a chance. People forget that it wasn't until around March 2017 when Isco really broke into the first team on a regular basis. Prior to that it could have been down to a toss of a coin to decide which of the pair would be sold."
Madrid Trust Issues
3 OF 4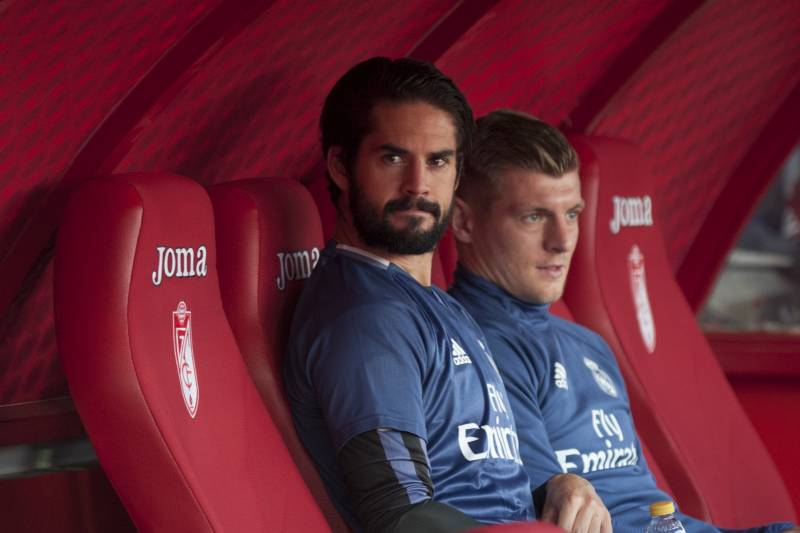 SERGIO CAMACHO/Getty Images
Some observers in Spain told me they believe Zidane's faith in Isco has been fading since Christmas, to the point he could be open to the club considering his sale at the end of the season.
Spanish football journalist Dave Cartlidge, who contributes to TalkSportand FourFourTwo, admits he detects a problem.
"I think it's because neither fully trust each other," he said: "Isco feels if he does something wrong then he will be punished or dropped. And Zidane doesn't trust Isco after all this time, and feels he can still let the team down at pivotal moments.
"Zidane only plays him in short bursts as he feels he's incapable of playing over the course of a season at a high level. The comments he made about playing eight games for Spain, 60 at Real Madrid, hint at that."
Those comments ahead of the Juve clash seem to point at Isco's lack of consistency over long periods of time and are going to stop him from holding down a regular place.
The Future's White
4 OF 4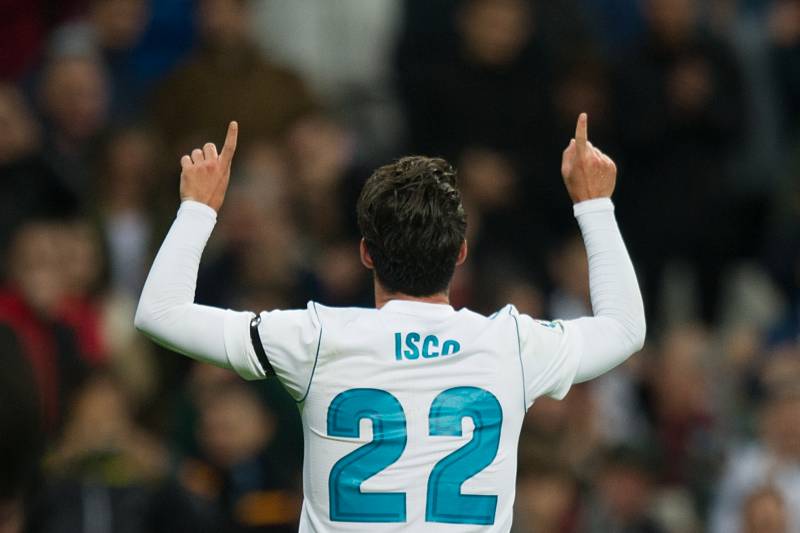 Denis Doyle/Getty Images
Since signing his latest contract, Isco has managed more game time than last season, and his aim is to boost his minutes on the field even further ahead of the World Cup.
In the past he has been linked with Juventus and Bayern Munich, as well as Man City, and sources believe those same clubs will be in the picture at the end of the season if Isco is not satisfied with life at the Bernabeu.
But right now, all his focus is on winning over Zidane. His 100 percent completion of 54 passes against Juve in his first club start since those Spain comments will not have hurt his cause.
Isco believes he is already at the biggest club in the world and will only leave when he loses all hope.
"Isco wants to triumph in the white of Madrid and that is his priority," journalist Calabres admitted. "But if he has no role? Guardiola has already knocked on his door."